2019-01-31
Laos Heavy Truck Market Enters the Era of Intelligence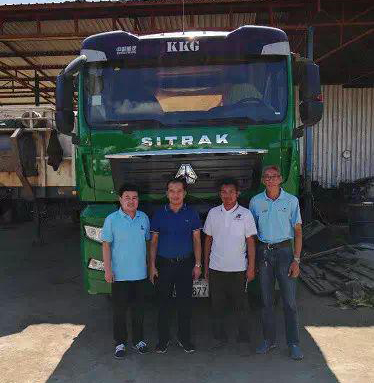 With the successful delivery of C7 tractors equipped with heavy trucks, the heavy truck intelligent management system was first launched in Laos. Through the intelligent APP, customers can always know the running status of the vehicle, including the location of the vehicle, mileage and fuel consumption, so that they can control the operation of the fleet and greatly improve the management efficiency of the fleet.
After a simple demonstration operation, the local team owners were very satisfied with the function of Intelligent Communication, indicating that they will strengthen cooperation with SINOTRUK and continue to expand the scale of their transportation company.
Since the establishment of SINOTRUK Laos office for 5 years, the staff has actively responded to the national "One Belt, One Road" initiative, in-depth research on the use of end-users in the field, customized according to customer needs, and won the trust of customers with a pragmatic attitude. SINOTRUK has become a shining business card in Laos.